marvin gaye
b. Marvin Penz Gay Jnr., 2nd April 1939, Freedman's Hospital, Washington, D.C., U.S.A.
d. 1st April 1984, 2101 South Gramercy Place, Los Angeles, U.S.A.
Marvin Gaye's contribution to Black Music over the past five decades is immeasurable.
Born on the 2nd of April 1939, Washington, D.C., Marvin's parents were, a minister in the Apostolic Church, (Marvin Gay Sr.), and Alberta Gay.
Marvin was the second eldest of the Gay siblings, and was named after his father.
He had two sisters (Jeanne and Zeola), and three brothers (Michael Cooper, Frankie Gaye, and Antwaun Gay).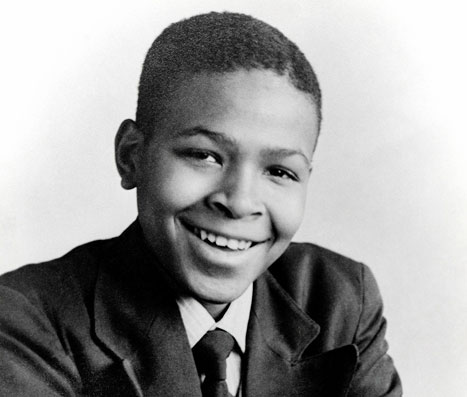 The influence of the church in his early years played a formative role in his musical career, particularly from the 70's onwards, when his songwriting shifted back and forth between mainstream and religious topics.
Marvin abandoned a place in his father's church choir and in 1957, he joined the Marquees, who recorded for Chess under the guidance of Bo Diddley.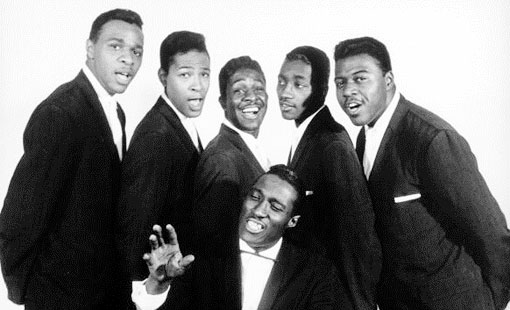 the moonglows (marvin: 2nd left, harvey fuqua: centre front)
The following year the group was taken under the wing of producer and singer Harvey Fuqua, who utilised them to reform his doo-wop outfit the Moonglows.
When Harvey moved to Detroit in 1960, Marvin went with him.
Harvey soon joined forces with Berry Gordy at Motown Records, and Marvin became a session drummer and vocalist for the label.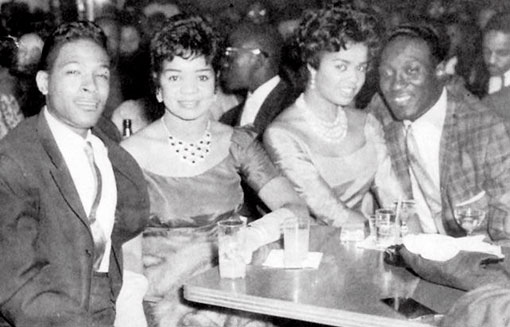 marvin with anna gordy, gwen gordy and harvey fuqua
In 1961, Marvin married Berry Gordy's sister, Anna, and was offered a solo recording contract.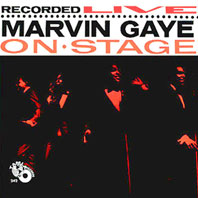 the soulful moods of marvin gaye - 1961 / that stubborn kinda fellow - 1963
live on stage - 1964 / while i'm alone I cry - 1964
Marvin added an 'e' to his surname (the word 'gay' was taking on newer meanings and Gaye was concerned about his reputation considering the flamboyant dress sense of his father) and began his career as a jazz singer, but in 1962 he was persuaded to record R & B, and notched up his first hit single with the confident 'Stubborn Kind Of Fellow', a top 10 R & B hit.
This record set the style for the next three years, as Marvin enjoyed hits with a series of energetic, dance songs that cast him as a smooth soul figure.
He also continued to work behind the scenes at Motown, co-writing Martha And The Vandellas' hit 'Dancing In The Street', and playing drums on several early recordings by Little Stevie Wonder.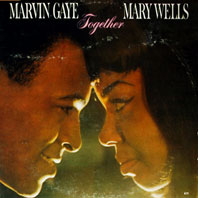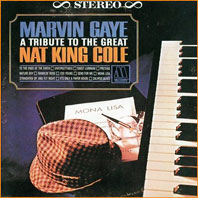 together - 1964 / hello broadway - 1965
how sweet it is to be loved by you - 1965 / a tribute to the great nat king cole - 1965
In 1965, Marvin moved into a more sophisticated style of Soul music.
'How Sweet It Is (To Be Loved By You)' epitomised his new direction, and it was followed by two successive R & B number 1 hits, 'I'll Be Doggone' and 'Ain't That Peculiar'.
His status as Motown's best-selling male vocalist left him free to pursue different avenues on his albums, which in 1965 included a tribute to the late Nat 'King' Cole and a collection of Broadway standards.
To capitalise on his image as a ladies' man, Motown teamed Marvin with their leading female vocalist, Mary Wells, for some romantic duets.
When Wells left Motown in 1964, Marvin recorded with Kim Weston until 1967, when she was succeeded by Tammi Terrell.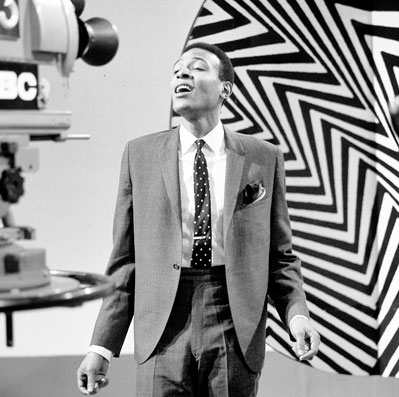 tammi terrell
The Marvin / Tammi partnership represented the peak of the soul duet, as their voices blended sensuously on a string of hits written specifically for the duo by Ashford And Simpson.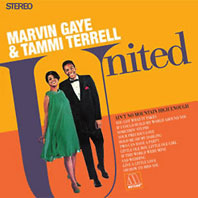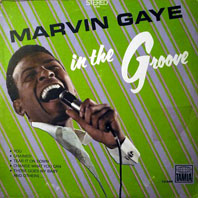 moods of marvin gaye - 1966 / take two - 1966
united - 1967 / in the groove - 1968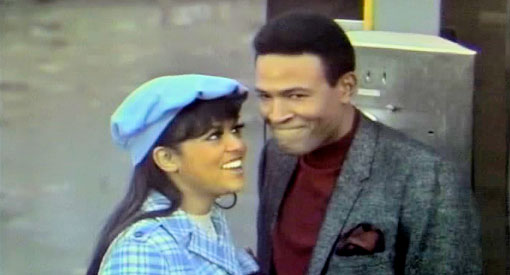 Tammi Terrell developed a brain tumour in 1968, and collapsed onstage in Marvin's arms.
Records continued to be issued under the duo's name, although Valerie Simpson allegedly took Tammi's place on some recordings.
Through the mid-60's, Marvin allowed his duet recordings to take precedence over his solo work, but in 1968 he issued 'I Heard It Through The Grapevine' (written by Whitfield / Strong), a song originally released on Motown by Gladys Knight And The Pips, although Marvin's version had actually been recorded first.
It became the label's biggest-selling record to date.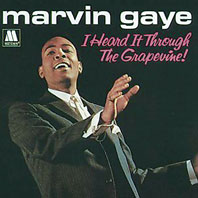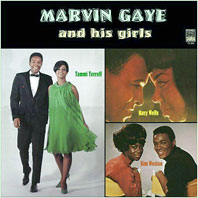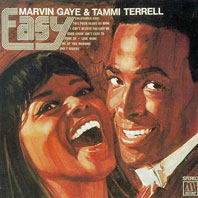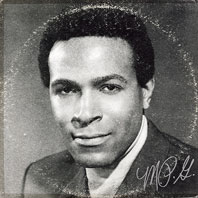 you're all I need - 1968 / I heard it through the grapevine - 1968
marvin gaye and his girls - 1969 / easy - 1969
mpg - 1969 / that's the way love is - 1970
Marvin followed up with another number 1 R & B hit, 'Too Busy Thinking 'Bout My Baby', but his career was derailed by the illness and eventual death of Terrell in March 1970.
Devastated by the loss of his close friend and partner, Marvin spent most of 1970 in seclusion.
The following year, he emerged with a set of recordings that Motown at first refused to release, but which eventually formed his most successful solo album.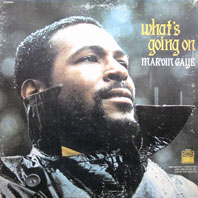 what's going on - 1971 / trouble man - 1972
On 'What's Going On', a number 1 hit in 1971, and its two chart-topping follow-ups, 'Mercy Mercy Me (The Ecology)' and 'Inner City Blues', Marvin combined his spiritual beliefs with his increasing concern about poverty, discrimination and political corruption in American society.
what's going on photo sessions
Marvin Gaye evolved a new musical style that influenced a generation of black performers.
Built on a heavily percussive base, Marvin's arrangements mingled varying influences into his soul roots, creating an instrumental backdrop for his sensual, almost pleading vocals.
These three singles were all contained on 'What's Going On', a masterpiece on which every track contributed to the overall message.
Stevie Wonder and Smokey Robinson say that this is their favourite 'all time' LP.
Marvin composed the soundtrack to the 'blaxploitation' thriller 'Trouble Man'.
His primarily instrumental score highlighted his interest in jazz, while the title song gave him with another hit single.
let's get it on - 1973 / diana and marvin - 1973
Marvin's next project saw him shifting his attention from the political to the sexual with 'Let's Get It On'.
Its explicit sexuality marked a major change in Marvin's career, as he began to use cocaine more and more regularly, he became obsessed with his personal life, and rarely let the outside world figure in his work.
Meanwhile, he continued to let Motown market him in a traditional fashion by agreeing to collaborate with Diana Ross on a sensuous album of duets in 1973, although the two singers allegedly did not actually meet during the recording of the project.
The break-up of his marriage to Anna Gordy in 1975 delayed work on his next album.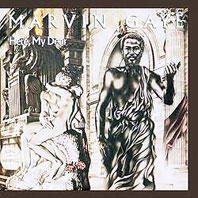 marvin gaye live - 1974 / I want you - 1976
marvin gaye live at the london palladium - 1977 / here my dear - 1978
'I Want You' followed to critical acclaim in 1976.
with leon ware
The album was written by Leon Ware, who had, originally, intended recording the material himself, but was persuaded by Marvin to allow him to record the set.
The title track was another number 1 hit on the soul charts, as was his 1977 disco outing, 'Got To Give It Up'.
Drug problems and tax demands interrupted his career, and in 1978 he fled the U.S. mainland to Hawaii in a vain attempt to salvage his second marriage.
Marvin devoted the next year to the 'Here My Dear' double album, a bitter commentary on his relationship with his first wife.
Its title was ironic.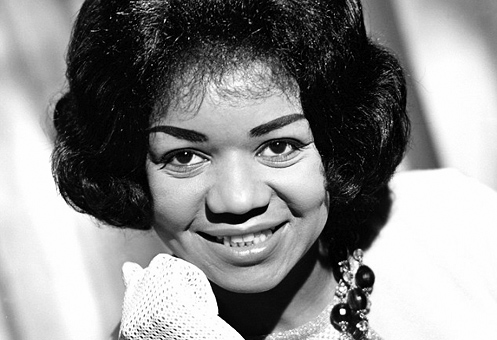 anna gordy gaye
He had been ordered to give all royalties from the project to Anna as part of their divorce settlement.
With this crisis behind him, Marvin began work on an album to be called 'Lover Man', but he cancelled its release after the lukewarm sales of its initial single, the sharply self-mocking 'Ego-Tripping Out', which he had presented as a duet between the warring sides of his nature.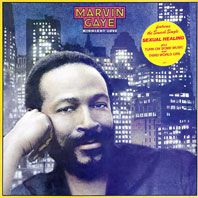 in our lifetime - 1981 / midnight love - 1982
In 1980, under increasing pressure from the Internal Revenue Service, Marvin moved to Europe where he began work on an ambitious concept album, 'In My Lifetime'.
When it emerged in 1980, Marvin accused Motown of remixing and editing the album without his consent, of removing a vital question-mark from the title, and of changing his original cover artwork.
The relationship between artist and record company had been shattered, and Marvin left Motown for Columbia in 1982.
with freddie crousart in 1981 - ostend, belgium
Persistent reports of his erratic personal conduct and reliance on cocaine fuelled pessimism about his future career, but instead he re-emerged in 1982 with a new single, 'Sexual Healing', which combined his passionate soul vocals with a contemporary slow-dance backing.
The subsequent album, 'Midnight Love', offered no equal surprises, but the success of the single seemed to herald a new era in Marvin's music.
He returned to the U.S.A., where he took up residence at his parents home in 2101 South Gramercy Place in Los Angeles.
The intensity of his cocaine addiction made it impossible for him to work on another album, and he fell into a prolonged bout of depression.
He repeatedly announced his wish to commit suicide in the early weeks of 1984, and his abrupt shifts of mood brought him into heated conflict with his father, rekindling animosity that had been there since Marvin's childhood.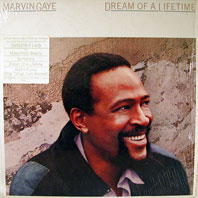 with his parents / dream of a lifetime - 1985
On 1st April 1984, another violent disagreement provoked Marvin Gay Snr. to shoot his son dead, an awful end to the life of one of soul music's premier performers.
Motown and Columbia collaborated to produce two albums based on Marvin's unfinished recordings.
'Dream Of A Lifetime' mixed spiritual ballads from the early 70's with sexually explicit funk songs from a decade later, while 'Romantically Yours' offered a different reading of Marvin's original intentions in 1979 to record an album of big band ballads.
In 1997, the album of 'big ballads' was issued under the title of 'Vulnerable'.
The album was said to be Marvin's favourite record from his long and distinguished resume.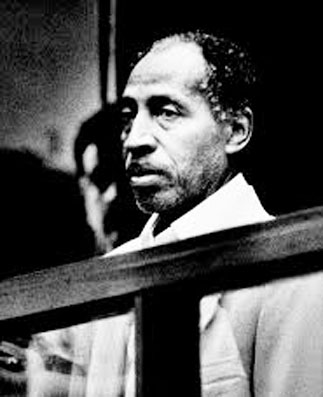 Marvin Gaye's entire recorded output signifies the development of black music from raw rhythm and blues, through sophisticated soul to the political awareness of the early 70's, and the increased concentration on personal and sexual politics thereafter.
Marvin's remarkable vocal range remains a testament for all subsequent soul vocalists, and his 'lover man' stance has been frequently mimiked.
Then, as you thought that that was the final word, Motown records embarked on a series of 'Deluxe' releases of Marvin's earlier material.
One track, 'Where Are We Going?', created a great deal of interest.
Written in part by the Mizell Brothers (Donald Byrd, Taste Of Honey, Bobbi Humphrey, Rance Allen etc.), the tune was heralded as the greatest release, of his, since Marvin's passing some 17 years earlier.
...check this Marvin Gaye Page...
marvin's death certificate
albums:
Solo:
The Soulful Moods Of Marvin Gaye (Tamla Records 1961)
That Stubborn Kind Of Fella (Tamla Records 1963)
Recorded Live: On Stage (Tamla Records 1964)
When I'm Alone I Cry (Tamla Records 1964)
with Mary Wells:
Together (Motown Records 1964)
Solo:
Hello Broadway This Is Marvin (Tamla Records 1965)
How Sweet It Is To Be Loved By You (Tamla Records 1965)
A Tribute To The Great Nat King Cole (Tamla Records 1965)
Moods Of Marvin Gaye (Tamla Records 1966)
with Kim Weston:
Take Two (Tamla Records 1966)
with Tammi Terrell:
United (Tamla Records 1967)
Solo:
In The Groove (Tamla Records 1968)
with Tammi Terrell:
You're All I Need (Tamla Records 1968)
with Tammi Terrell, Kim Weston, Mary Wells:
Marvin Gaye And His Girls (Tamla Records 1969)
with Tammi Terrell:
Easy (Tamla Records 1969)
Solo:
MPG (Tamla Records 1969)
That's The Way Love Is (Tamla Records 1970)
What's Going On (Tamla Records 1971)
Trouble Man-Film Soundtrack (Tamla Records 1972)
Let's Get It On (Tamla Records 1973)
with Diana Ross:
Diana And Marvin (Motown Records 1973)
Solo:
Marvin Gaye Live! (Tamla Records 1974)
I Want You (Tamla Records 1976)
Marvin Gaye Live At The London Palladium (Tamla Records 1977)
Here My Dear (Tamla Records 1978)
In Our Lifetime (Tamla Records 1981)
Midnight Love (Columbia Records 1982)
Dream Of A Lifetime (Columbia Records 1985)
Romantically Yours (Columbia Records 1985)
The Marvin Gaye Collection: Rare, Live And Unreleased (Motown Records 1990)
The Last Concert Tour (Giant Records 1991)
For The Very Last Time (Giant Records 1994)
Vulnerable (Motown Records 1997)
The Very Best Of Marvin Gaye (Motown Records 2001)
What's Going On - Deluxe Edition (Motown Records 2001)
Let's Get It On - Deluxe Edition (Motown Records 2001)
I Want You - Expanded Edition (Tamla Records 2003)
Here My Dear - Expanded Edition (Tamla Records 2008)