lamont dozier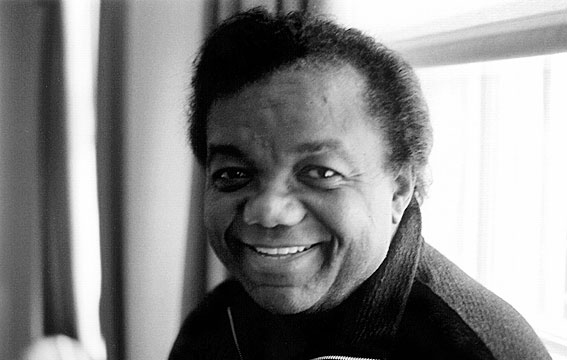 at the grosvenor house hotel 29th may 2004 (photo by toby walker)
b. Lamont Herbert Dozier, 16th June 1941, Detroit, Michigan, U.S.A.
d. 9th August 2022, Scottsdale, Arizona, U.S.A.
Lamont Dozier is one of the greatest songwriters of the last century.
His writings have been covered by a huge array of performers over the decades.
As part of Motown's Holland-Dozier-Holland songwriting team, the trio scored 25 top ten pop hits between 1963 and 1968, which include, the Supremes' 'Where Did Our Love Go?', 'Baby Love', 'Stop! In the Name of Love', the Four Tops' 'I Can't Help Myself' and 'Reach Out, I'll Be There' and Martha and the Vandellas' 'Nowhere to Run' and 'Heat Wave'.
Iniitially, as a solo artist, Lamont was part of the vocal group scene of the late 50's.
He appeared in various groups during those years, including:
the romeo's: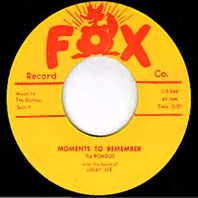 gone, gone get away b/w let's be partners - 1957 / moments to remember b/w fine, fine baby - 1957
He sang alongside several Motown stablemates in the Romeos and the Voice Masters during 1957-58.
the voice masters: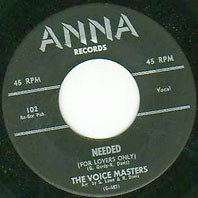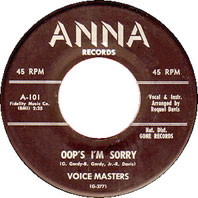 needed b/w needed (for lovers only) - 1959 / hope and pray b/w oops i'm sorry - 1959
The Voice Masters recorded the songs 'Hope and Pray' and 'Needed' for the Anna Imprint.
Lamont became friends with local songwriter and producer Berry Gordy around this time, and was one of Gordy's first signings when he launched the Motown label at the end of the decade.
lamont anthony: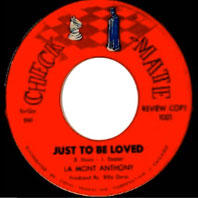 let's talk it over b/w popeye - 1960 / just to be loved b/w i didn't know - 1961
He issued his debut single, 'Let's Talk It Over', under the pseudonym Lamont Anthony in 1960, and issued two further singles in the early 60's.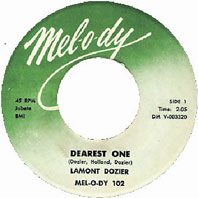 let's talk it over b/w benny the skinny man - 1960 / dearest one b/w fortune teller tell me - 1962
In 1962, he recorded a one-off release with Motown's Mel-o-dy imprint (an early exploration into country music's musical environment), with songwriter Eddie Holland, and was soon persuaded to partake in a writing and production team with Eddie and his brother Brian Holland.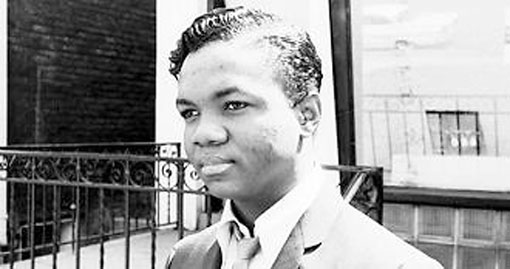 The Holland / Dozier / Holland credit graced the majority of Motown's hit records for the next five years, as the trio struck up particularly successful working relationships with the Supremes and the Four Tops.
with the supremes and the holland brothers
Lamont contributed both lyrics and music to the partnership's creations, proving the initial impetus for hits such as 'Stop! In The Name Of Love' by the Supremes, 'Bernadette' by the Four Tops and 'Jimmy Mack' by Martha And The Vandellas.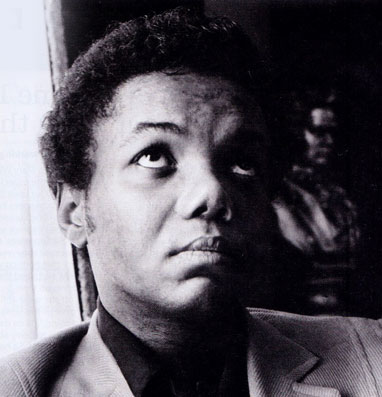 During the Civil Rights disturbances in the Sixties, Lamont witnessed tanks passing the Hitsville Studio's, an event that inspired him to write the song 'Nowhere To Run'.
As a pianist, arranger and producer, Lamont was also prominent in the studio, supporting the central role of Brian Holland in the recording process.
with brian holland
Lamont and the Holland brothers left Motown in 1967, unhappy at the financial and artistic restrictions imposed by Berry Gordy.
The following year, they set up their own rival companies, Invictus and Hot Wax Records, who produced hits for artists such as Freda Payne and the Chairmen Of The Board.
Lamont resumed his own recording career in 1972, registering a US hit with 'Why Can't We Be Lovers', and receiving critical acclaim for a series of duets with Brian Holland.
The Holland / Dozier / Holland partnership was fragmenting, however, and in 1973 he severed his ties with Invictus and signed to ABC.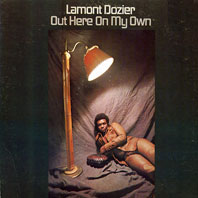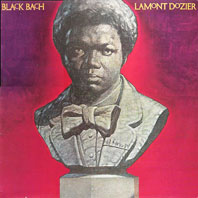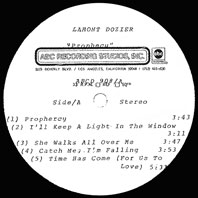 out here on my own - 1973 / black bach - 1974 / love and beauty - 1974 / prophecy - 1975 (unreleased acetate)
'Out Here On My Own' and 'Black Bach' demonstrated the creative liberation Lamont felt outside the constraints of the Holland/Dozier/Holland team.
He enjoyed major U.S. hits in 1974 with 'Trying To Hold On To My Woman', the anti-Nixon critique 'Fish Ain't Bitin', along with 'Let Me Start Tonite'.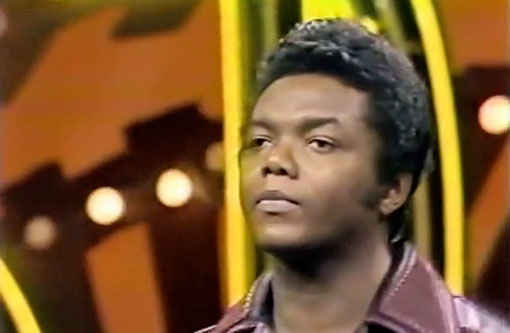 The release of the 'Love & Beauty' album also in 1974 was not an intended issue as Lamont felt they were incomplete recordings all bar 'The Picture Will Never Change' and 'Why Can't We Be Lovers'.
One final album was recorded for ABC in 1975, entitled 'Prophecy', which had only one album pressing before the project was shelved (some sides making it to the Margie Joseph album 'Hear The Words, Feel The Feeling').
ABC was folding as a label, and the company decided to incinerate (in huge gasoline bins at the rear of the factory), all of the product either in production or about to be released.
Many albums were, by and large, lost at the time, including 'Prophecy' along with various Rock artists projects including an album by the band Three Dog Night.
'Prophecy's' track line-up was to have been:
Side A - 1. Prophecy 3:43 / 2. I'll Keep A Light In The Window 3:11 / 3. She Walks All Over Me 3:47 / 4. Catch Me, I'm Falling 3:53 / 5. Time Has Come (For Us To Love) 5:33
Side B - 1. Out Here On My Own 5:27 / 2. Something Special 4:52 / 3. Somebody's Knocking 3:27 / 4. Love Always Gets The Blame 3:55 / 5. Something To Fall Back On 3:55
ABCD 908 ABC Records 1975 - Recorded at 8256 Beverly Boulevard, Los Angeles, California 90048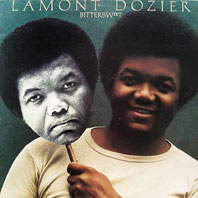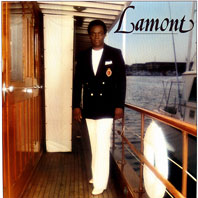 right there - 1976 / peddlin' music on the side - 1977 / bittersweet - 1979 / lamont - 1981
Lamont switched labels to Warner Brothers in 1976, issuing the highly regarded 'Right There' (featuring 'Joy' and 'Can't Get Off Until The Feeling Stops') and 'Peddlin Music On The Side' the following year.
The latter album included the classic 'Goin' Back To My Roots', a retrospective of black pride that became a big hit in the hands of Odyssey in the early 80's.
Another release by Richie Havens, of the song, is Lamont's own personal favourite version.
Lamont also continued his production work, overseeing Aretha Franklin's 'Sweet Passion' in 1977, plus recordings by Zingara, The Originals, Future Flight, Margie Joseph, Z.Z. Hill, and Al Wilson (four unreleased sides to this date).
In the late 70's and early 80's, Lamont's brand of soul music lost ground to the increasingly popular disco scene.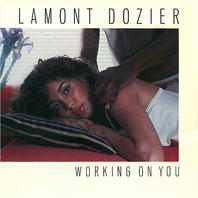 working on you - 1981 / cover model, bernadette with husband sugar ray leonard
One point of interest is that the woman on the cover of his 'Working On You' album sleeve (above) is called Bernadette and she is married to the boxer Sugar Ray Leonard.
'Working On You' also featured the songs 'Starting Over (We've Made The Necessary Changes)', 'Coolin' Out' and 'You Made Me A Believer'.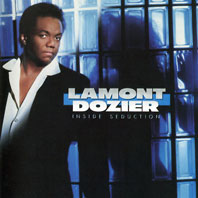 bigger than life - 1983 / inside seduction - 1991
After several overlooked albums on Warners and A & M, he re-emerged in 1983 on his own Megaphone label, recording the album 'Bigger Than Life', and paying tribute to his own heritage with an 18-minute hits medley, entitled, 'The Motor City Scene'.
Since then, he has remained out of the public eye, working sporadically on production projects with the Holland brothers.
the abc years and lost sessions - 2000 / the lamont dozier anthology - 2000
In 2000, there came the release of two compilations, 'The ABC Years And Lost Sessions' along with 'Going Back To My Roots' both containing unreleased material.
The release of these recordings became a contentious issue with heated discussions between the Lamont Dozier camp and the record labels concerned with the U.K. releases.
Lamont Dozier was due to play at the Jazz Café in Camden in London on October 4th 2000.
The show was cancelled due to 'differences between the record companies involved' two days before he was due to perform, with Lamont wishing to ustilise one of his own musicians and the current company refusing.
In 2001, Lamont began work on a project entitled 'Reflections' for his own new 'D-Flawless' record label.
Later that year, Lamont appearred in a Motown Revue at the Royal Festival Hall in London, delighting the audience with solo performances of songs taken from his own repertoire, including 'All Cried Out', 'Trying To Hold On To My Woman', 'Fish Ain't Bitin' and 'Why Can't We Be Lovers?'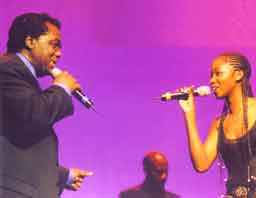 royal festival hall programmes 2001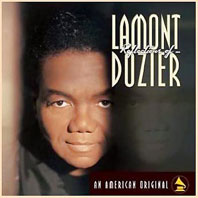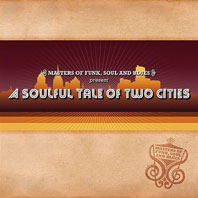 an american original - 2004 / a soulful tale of two cities - 2005
In 2004, Lamont released a self performed retrospective of his Motown penned material enitled 'An American Original', whilst a year later he recorded two tracks for a Philly/Motown collaboration set, performing covers of 'Close The Door' and 'Me & Mrs Jones'.
lamont & barbara dozier
Lamont is married to Barbara Ullman Dozier and has 3 children (two sons and one daughter with Barbara).
His sons are named Beau Alexandre and Paris Ray and his daughter is named Desiree Starr.
Lamont and his family reside in Beverly Hills today.
In 2004 he received the Ivor Novello Award for a lifetimes songwriting achievement within the industry.
He then wrote for the U.K. Soul singer Joss Stone, on a song entitled 'Spoiled', and toured with Sir Cliff Richard in 2011.
In 2018, Lamont announced new U.K. dates, along with the release of a new album, 'Reimagination'.
Barbara Dozier died in 2021. Lamont Dozier died, at home in Arizona, in August 2022.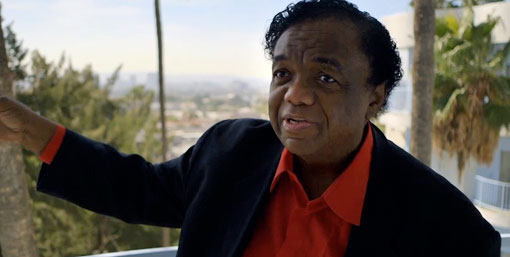 singles: as part of the romeo's:
Gone, Gone, Get Away b/w Let's Be Partners (Fox Records 1957)
Moments To Remember You By b/w Fine, Fine Baby (Fox Records 1957)
Moments To Remember You By b/w Fine, Fine Baby (Atco Records 1958)
singles: as part of the voice masters:
Hope And Pray b/w Oop's I'm Sorry (Anna Records 1959)
Needed b/w Needed (For Lovers Only) (Anna Records 1959)
In Love In Vain b/w Two Lovers (Frisco Records 1960)
singles: as lamont anthony:
Let's Talk It Over b/w Benny & The Skinny Man (Anna Records 1125)
Popeye b/w Let's Talk It Over (Anna Records 1125P)
Just To Be Loved b/w I Didn't Know (Checkmate 10001 Records DJ)
singles: as lamont dozier:
Dearest One / Fortune Teller Tell Me (Mel-o-dy Records 1962)
as lamont dozier:
Out Here On My Own (ABC Records 1973)
Love And Beauty (Invictus Records 1974)
Black Bach (ABC Records 1974)
Prophecy (ABC Records 1975) (unreleased)
Right There (Warners Records 1976)
Peddlin' Music On The Side (Warners Records 1977)
Bittersweet (Warners Records 1979)
Working On You (Columbia Records 1981)
Lamont (M & M Records 1982)
Bigger Than Life (Megaphone Records 1983)
Inside Seduction (Atlantic Records 1991)
The ABC Years and Lost Sessions (Expansion Records 2000)
Going Back To My Roots (Sanctuary Records 2000)
The Invictus Sessions (Castle Records 2000)
An American Original (D-Flawless Records 2002)
Reflections of (Jam Right Records 2004)
Reimagination (V2 Benelux Records 2018)