peter young
with tony hancock (in spirit)
this week's py show jazzfm chart
Capital Radio circa 1976:
l to r: Adrian Love, David Briggs, Maggie Norden, Tony Myatt, Graham Dene, Ian Davidson, Promotion Woman, Roger Scott, Bryan Wolfe, Jane Walmsley and Peter Young
....you can check PY's latest Jazz FM show here:
http://www.jazzfm.com/listening/

...e-mail PY here....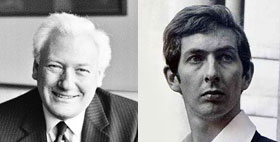 py's personal personal tributes page is here
Peter Young Show
Jazz FM
2-6pm
Saturday 11th February 2017
2-3pm: 'Soul Cellar' Part 1


James Brown - Licking Stick Licking Stick 
James Brown - Mother Popcorn 
James Brown - Say It Loud, I'm Black And I'm Proud 
The JB's - Pass The Peas 
Kokolo - Soul Power 
Dee Felice Trio - There Was A Time 
James Brown - Cold Sweat 
Lyn Collins - Think (About It) 
Vicki Anderson & Bobby Byrd - You're Welcome / Stop On By 
James Brown - Please Please Please 
The JB's - Gimme Some More 
Fred Wesley & The JB's - Same Beat
3-4pm: 'Jazz Dance Hour'
Fred Wesley & The JB's - Watermelon Man 
Maceo Parker - Up And Down East Street 
Pee Wee Ellis - Sticks 
Dee Felice Trio - The Crickets Sing 
James Brown - Sunny 
Mongo Santamaria - Cold Sweat 
Idris Muhammad - Super Bad 
Jimmy McGriff - Ain't It Funky Now 
James Brown - There Was A Time
4-5pm:
Aretha Franklin - Soulville 
Four Tops - Love Music 
Rick James - Big Time 
Jose James - Live Your Fantasy 
Chris Jasper - I Love You 
George Anderson - Festival De La Vida 
Big Lee Dowell & The Cannonballs - What I Done Wrong 
Stone Foundation feat. Bettye LaVette - Season Of Change 
CeCe Winans - Dancing In The Spirit 
Jackson Five - Skywriter 
Dagmar's Collective - Love's Divine
5-6pm: 'Soul Cellar'
Eddie Floyd - Big Bird 
Rufus Thomas - The Funky Bird 
The Velvelettes - A Bird In The Hand (Is Worth Two In The Bush) 
Sonny Boy Williamson - Bye Bye Bird 
Jewel Akens - The Birds And Bees 
Inez & Charlie Foxx - Mockingbird 
Lou Johnson - Kentucky Bluebird (Send A Message To Martha) 
Rufus Thomas - Jump Back 
Doris Troy - I'll Do Anything 
Dusty Springfield - I'll Try Anything 
The Strangeloves - I Want Candy 
The Temptations - It's Growing 
The Temptations - Since I Lost My Baby 
The Temptations - (I Know) I'm Losing You 
The Glories (I Love You Babe But) Give Me My Freedom 
The Orlons - Spinning Top 
The James Boys - The Mule
Huffington Post article 2014:
click on the page image above (pdf version here)

'Message from Peter Young:
I'm delighted to announce that I'm part of the lineup on the new Jazz FM. The show is on Saturday afternoon from 2-6pm. It will feature all the goodness that Black Music has to offer – a hot selection of Jazz, Blues, Rhythm 'n' Blues, Soul and Gospel – old and new. 'The Soul Cellar' is back in the last hour from 5 - 6pm.
More details on how to hear the new Jazz FM at: http://www.jazzfm.com
Thanks as always for your loyalty and support
PY.'
Peter Young (25th September 2008)

Blues and Soul article (click on the image above)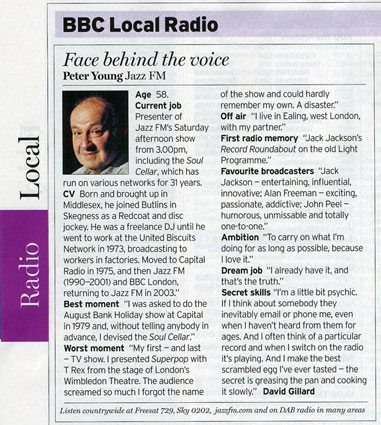 BBC Radio Times article - February 2010
The Times Newspaper 17.7.2010 Recommended DAB Radio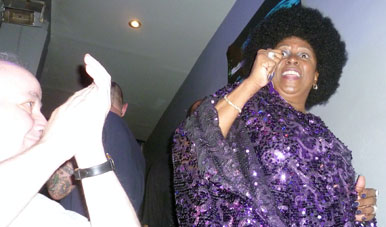 PY with betty wright
Alan 'Fluff' Freeman, PY, Charlie Gillett and Gary Crowley
...click here to go to Mary & Chris Payne's website that showcases the history of 1960's offshore station, Radio London...
...or click here to see some soul imagery...