peter young
with tony hancock (in spirit)
this week's py show jazzfm chart
Capital Radio circa 1976:
l to r: Adrian Love, David Briggs, Maggie Norden, Tony Myatt, Graham Dene, Ian Davidson, Promotion Woman, Roger Scott, Bryan Wolfe, Jane Walmsley and Peter Young
....you can check PY's latest Jazz FM show here:
http://www.jazzfm.com/listening/

...e-mail PY here....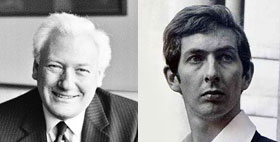 py's personal personal tributes page is here
Peter Young Show
Jazz FM
2-6pm
Saturday 21st January 2017
2-3pm: 'Soul Cellar' Part 1

AFO Executives feat. Tami Lynn – Money (That's What I Want)

Nancy Wilson – Uptight

Ella Fitzgerald – Get Ready

Jackie Wilson – You Keep Me Hanging On

James Brown – For Once In My Life

A Certain Ratio – Don't You Worry 'Bout A Thing

Kyle Eastwood feat. Joni Mitchell – Trouble Man

Working Week – Inner City Blues

Dusty Springfield – When The Love Light Starts Shining Thru His Eyes

Barbara Randolph – Can I Get A Witness

Marvin Gaye – Sweet Thing

Cissy Houston – How Sweet It Is

San Remo Golden Strings – Festival Time

3-4pm: 'Jazz Dance Hour'

Mongo Santamaria – Cloud Nine

Mongo Santamaria – I Can't Get Next To You

Little Stevie Wonder – Fingertips (Inst)

Norman Brown – Too High

Magic Disco Machine – Scratchin'

Georgie Fame – Soul Stomp

Grover Washington Jr. – I Can't Help It

Grover Washington Jr. – Mercy Mercy Me (The Ecology)

Sunlightsquare – Pastime Paradise

Ella Fitzgerald – What's Going On

Jr. Walker & The All Stars – Cleo's Mood

Marvin Gaye – Main Theme From Trouble Man

4-5pm:

Kool & The Gang – Open Sesame (Part 2)

LTD feat. Jeffrey Osborne – Love To The World

Shaun Escoffery – Healing Me (Nigel Lowis Mix)

Sheila Ford – La Costa

Da Lata & Phil Asher – Asking Eyes

Kenny Wellington – Manic Monday, Magic Sunday

Dagmar's Collective – Love's Divine

Anita Baker – Will You Be Mine

Diplomats Of Soul – Running Away

5-6pm: 'Soul Cellar'

Kelly Brothers – Crystal Blue Persuasion

The Ikettes – I'm Blue

The Temptations – Girl (Why You Wanna Make Me Blue)

Fats Domino – My Blue Heaven

Fats Domino – Blue Monday

Tower Of Power – So Very Hard To Go

Doris Troy – Trust In Me

Gene Chandler – There Goes The Lover

The Impressions – Can't Satisfy

Mary Love – Lay This Burden Down

The Essex – Easier Said Than Done

Linda Carr & The Love Squad – Highwire

The Contours – I'll Turn To Stone

Jimmy Ruffin – Baby I've Got It

The Marvelettes – Finders Keepers, Losers Weepers

Marv Johnson – I Miss You Baby (How I Miss You)

Earl Van Dyke – You're A Wonderful One

Huffington Post article 2014:
click on the page image above (pdf version here)

'Message from Peter Young:
I'm delighted to announce that I'm part of the lineup on the new Jazz FM. The show is on Saturday afternoon from 2-6pm. It will feature all the goodness that Black Music has to offer – a hot selection of Jazz, Blues, Rhythm 'n' Blues, Soul and Gospel – old and new. 'The Soul Cellar' is back in the last hour from 5 - 6pm.
More details on how to hear the new Jazz FM at: http://www.jazzfm.com
Thanks as always for your loyalty and support
PY.'
Peter Young (25th September 2008)

Blues and Soul article (click on the image above)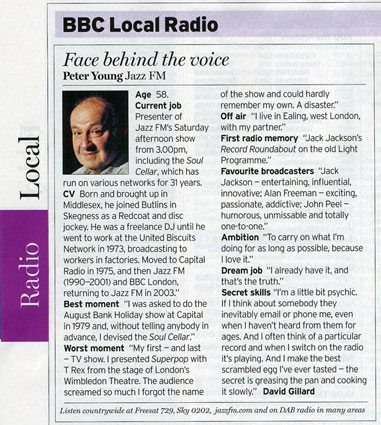 BBC Radio Times article - February 2010
The Times Newspaper 17.7.2010 Recommended DAB Radio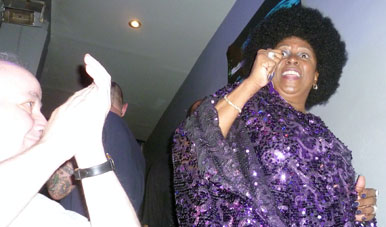 PY with betty wright
Alan 'Fluff' Freeman, PY, Charlie Gillett and Gary Crowley
...click here to go to Mary & Chris Payne's website that showcases the history of 1960's offshore station, Radio London...
...or click here to see some soul imagery...