curtis mayfield
b. Curtis Lee Mayfield, 3rd June 1942, Chicago, Illinois, U.S.A.
d. 26th December 1999, North Fulton Regional Hospital, Roswell, Georgia, U.S.A.
Curtis Mayfield has played a major pivotal role in Soul Music over the last 50 years and has influenced countless musicians (and politicians).
Between 1961 and 1971, he wrote a succession of influential singles for his group, including 'Gypsy Woman' (in 1961), 'It's All Right, (in 1963), 'People Get Ready' (in 1965), 'We're A Winner' (in 1968) and 'Choice Of Colours' (in 1969).
Curtis wrote tender love songs and those protesting about social and political equality.
Decades later Bob Marley lifted lines from 'People Get Ready' to enhance his own recording, 'One Love'.
Two independent record companies, Windy C and Curtom, emphasized Curtis's important role within black music, while his continued support for other artists as composer, producer or session guitarist, enhanced a reputation beyond that of just a singer.
Jerry Butler, Major Lance, Gene Chandler and Walter Jackson are among the many Chicago-based singers benefiting from Mayfield's songwriting skills.
Having parted company with The Impressions in 1970, Curtis began his solo career with '(Don't Worry) If There's A Hell Below We're All Going To Go', a powerful protest song, written after watching politicians on television and becoming disillusioned.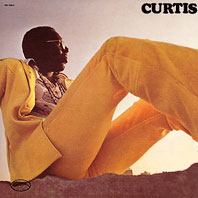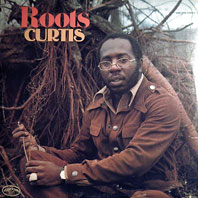 curtis - 1970 / roots - 1971 / curtis live - 1971 / superfly - 1972
The following year Curtis penned his biggest U.K. success when 'Move On Up', reached number 12, an extended album dancer that charted in the U.S.A. and U.K. alike.
Curtis then released the song 'Freddie's Dead' (US R & B number 2 / number 4 pop hit) and the theme from 'Superfly' (1972), a 'blaxploitation' film which he also penned.
Both singles and the album achieved gold status, inspiring further involvement with movie soundtracks.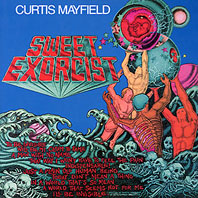 curtis in chicago - 1973 / back to the world - 1973 / got to find a way - 1974 / sweet exorcist - 1974
The soundtracks included 'Claudine', 'A Piece Of The Action', 'Sparkle' and 'Short Eyes', the last of which featured Curtis in an acting role.
The studio albums continued to flow, which included Curtis's hugely under-rated 'Back To The World, in 1973, which became his own 'What's Going On', criticizing the U.S. involvemnt within wars across the planet and how troops are intergrated back into society when conflicts cease.
'Got To Find A Way' was another unrecognised gem, featuring the emotive 'So You Don't Love Me'.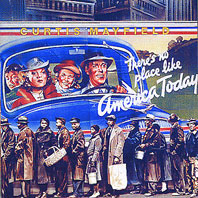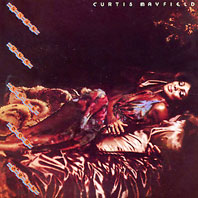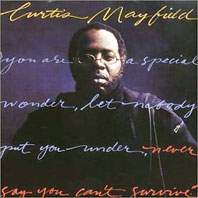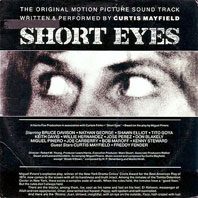 there's no place like america today - 1975 / give, get, take, have - 1976 / never say you can't survive - 1977 / short eyes - 1977
In 1975 he released another social commentary album in the form of 'There's No Place Like America Today', which was followed, a year later, by the album 'Give, Get, Take, Have', which featured 'P.S. I Love You'.
Curtis continued to prove popular and subsequent work, including his production of Aretha Franklin's 1978 album, 'Almighty Fire' is held in high regard.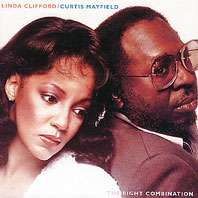 do it all night - 1978 / heartbeat - 1979 / the right combination - 1980 / something to believe in - 1980
In 1978, Curtis dipped his musical toes into the disco market, releasing 'Do It Your Way, which featured the hit 'No Goodbyes'.
In 1978, Curtis released the album 'Heartbeat', which featured one of his finest solo tracks, namely 'You're So Good To Me', a song sampled by many artists including Mary J.Blige.
In 1981, he joined the Boardwalk label, for which he recorded the albums 'Love Is The place' (including 'She Don't Let Nobody (But Me), and 'Honesty', his strongest album since the days of the early 70's.
The death of the label's managing director left an enormous gap, and Curtis's career was then blighted by music industry lethargy.
In 1985 he released the album 'We Come In Peace With A Message of Love' for the CRC imprint, featuring ' We Come In Peace'.
Curtis remained a highly popular live attraction, particularly in Britain where '(Celebrate) The Day After You', a collaboration with the Blow Monkeys, became a minor hit.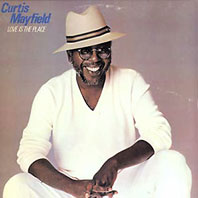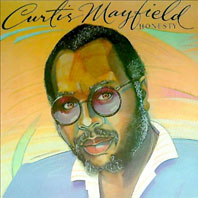 love is the place - 1981 / honesty - 1982 / we come in peace - 1985 / live in europe - 1988
In 1990, a freak accident, in which part of a public address rig collapsed on top of him during a concert, left Curtis permanently paralyzed from the neck down.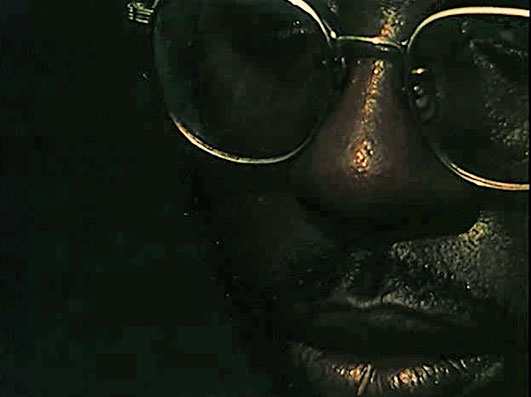 The effects, both personal and professional, proved costly, but not completely devastating in terms of his musical career.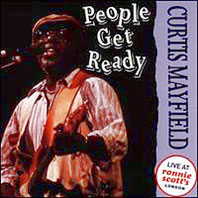 take it to the streets - 1990 / people get ready - 1990 / live on radio one - 1993 / new world order - 1996
The material from 'BBC Radio 1 Live In Concert' was gathered from the gig at London's Town And Country Club during Mayfield's 1990 European tour.
In 1993, Warner Brothers released 'A Tribute To Curtis Mayfield' featuring various artists including Lenny Kravitz, Whitney Houston, Aretha Franklin, Bruce Springsteen, Rod Stewart, Elton John and Steve Winwood, which was an excellent tribute to the Curtis Mayfield songbook.
Aretha's version of 'The Makings Of You' was excellent.
A year later Charly Records reissued the majority of Mayfields 70's albums on CD as well as several compilations.
In 1996,Rhino Records gathered the best package in a three-CD box set.
At the end of 1996, a new album, 'New World Order' , was released to excellent reviews.
During the recording of 'New World Order', Curtis had to lie on his front, supended by a harness, in order to give some gravitational power to his voice.
His contribution to soul music has been immense, whatever the limitations of his disability, his voice, however, remained perfect, sensitive and unique.
On Boxing Day 1999, Curtis passed away in his sleep at the North Fulton Regional Hospital in Roswell, Georgia, U.S.A.
His contribution to society and music is unmeasurable. Curtis Mayfield Obituary
'Pusherman' is utilised as part of the American curriculum in the fight against drugs.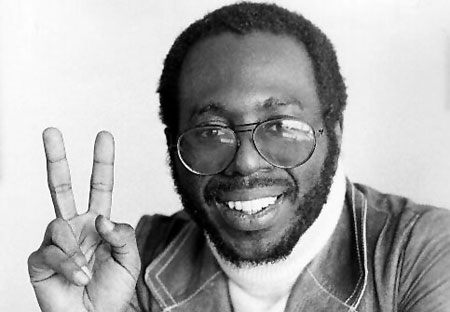 albums:
solo:
Curtis (Buddah Records 1970)
Curtis/Live! (Buddah Records 1971)
Roots (Buddah Records 1971)
Superfly (film soundtrack) (Buddah Records 1972)
Back To The World (Buddah Records 1973)
Curtis In Chicago (Buddah Records 1973)
Sweet Exorcist (film soundtrack) (Buddah Records 1974)
Got To And A Way (Buddah Records 1974)
Claudine (film soundtrack) (Buddah Records 1975)
Let's Do It Again (Curtom Records 1975)
There's No Place Like America Today (Curtom Records 1975)
Sparkle (Curtom Records 1976)
Give, Get, Take And Have (Curtom Records 1976)
Short Eyes (film soundtrack) (Curtom Records 1977)
Never Say You Can't Survive (Curtom Records 1977)
A Piece Of The Action (film soundtrack) (Curtom Records 1978)
Do It All Night (Curtom Records 1978)
Heartbeat (RSO 1979)
with Linda Clifford:
The Right Combination (RSO Records 1980)
solo:
Something To Believe In (RSO Records 1980)
Love Is The Place (Boardwalk Records 1981)
Honesty (Boardwalk Records 1983)
We Come In Peace With A Message Of Love (CRC Records 1985)
Live In Europe (Ichiban Records 1988)
People Get Ready (Essential Records 1990)
Take It To The Streets (Curtom Records 1990)
BBC Radio 1 Live In Concert (Windsong Records 1993)
New World Order (Warners Records 1996)