• Peaches & Herb - Let's Fall In Love / Isaac Hayes - Black Moses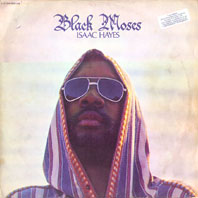 Two albums that have one thing in common here. Both are albums with several excellent cover versions in their respective grooves.
I have, recently, been in touch with with 'Peaches', Francine Hurd Barker's daughter. Linda Greene was the later 'Peaches' who sang 'Reunited'. Francine, sadly, passed away last August 2005. This is one of the nicest Sixties Sweet Soul albums, which could, almost, have been recorded back in the Fifties with it's very 'Doo Wop' feel. Francine was partnered with Herb Fame on this lovely recording. The pair used to sing together in the back of their car when they were being driven places. The title track sets up the musical scene very nicely, and all that follows is delightful. The two solo's really stand out on this album. 'Peaches' take on 'Time After Time' is lovely. Herb's take on 'When I Fall In Love' is really outstanding. The couple were / are from Washington D.C. Francine's surname is listed on the cover as 'Day', however her daughter thinks that may be a name borrowed from a friend. Her real surname is Barker. I think her family can be proud of their mothers album here. Herb used to work in a record store. Van McCoy used to hang around at the store from time to time, which led to this album becoming available via Van and David Kapralik's production chores. Well worth tracking down. On CBS, recorded in 1967.
Isaac Hayes is someone I felt I have neglected at the site. Didn't mean it Soul Brother! Folks thesedays don't record individual double albums on CD. In fact, the only albums that come as double CD's are, generally, old albums or retrospectives. Imagine me asking Tommy Sims to put together a double CD? The industry wouldn't allow it. They want the next album from 'Girls Explode Uncontrollably', or whatever they call themselves thesedays on 'American Flop Idol'. Isaac put together a major masterpiece here without a great deal of fanfare. This set was released in 1972 on Stax. A lovely album with several covers, as I mentioned. He works his way through the writings of Burt Bacharach and Hal David, Gamble, Huff & Jerry Butler, Curtis Mayfield, Clay Hammond and pitches in with a few home runs. Of his prolific output, this double set stands up as some of his finest work. Whatever you do, don't say to anyone 'he's the guy that did Shaft'. There is a great deal more to Isaac's repertoire. Highly recommended album.
• Richie Havens - The Great Blind Degree / Connections
Richie Havens first made his mark at Woodstock in 1969, all told. At the time he was quite prolific, musically. His vocal delivery has an intensity that suited that period, and oddly, later on with this 'Connections' album for similar reasons. The man is almost pleading with the listener, which almost wants you to go help the man.
'The Great Blind Degree' is a lovely album. Out a couple of years after that festival, the album catches Richie in a contemplatative mood, kicking off proceedings with the social commentary influenced 'What About Me'. The second melody is a simply gorgeous version of the James Taylor classic 'Fire & Rain'. Six and a half minutes of pure brilliance. Richie covers the Cat Stevens song 'Fathers and Sons' and the Graham Nash penned 'Teach Your Children' as well on this set. Overall, a great effort, taken from the era of LSD and Purple Hearts. Certainly worth tracking down.
Nearly a decade later, Richie released 'Connections'. This was another album of mainly cover versions, ranging from songs penned by the likes of Paul McCartney, Bob Seger, Sam Cooke and Stevie Nicks. The album came out on the Elektra imprint back in 1980. What makes this album interesting, is Richie's version of the Lamont Dozier classic 'Going Back To My Roots'. Frenetic is a good word to describe this take on the tune. This became hugely popular in the late Eighties in the House Music clubs in the U.K., almost a decade after it's release. These clubs were places where the drug Ecstasy became popular at the time. From Purple Hearts to Ecstasy in twenty years. Not sure what Richie would, personally, make of all this. One thing I do know, is he is a highly original vocalist, and that 1971 album is well worth tracking down. 'Roots' has made some compilations and has been bootlegged, unfortunately for Richie and Lamont.
• Kleeer - Winners / Intimate Connection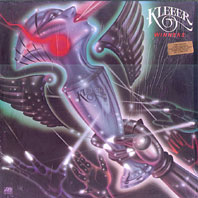 Kleeer (who used to be the Universal Robot Band) really only had a career that spanned six years as a band in that guise. In that period, they realised some seven albums. Not your Northern purists taste in music, however, on the dance scene, at the time, they were quite a remarkable group at their peak. In the same way that Brass Construction carved their own niche several years earlier, Kleeer did exactly the same back in the day. O.K., so here are two offerings from this great band.
'Winners' suffers from one malaise. That malaise is that the album, although being strong throughout, has an absolute killer track on it, which makes the other songs pale a little. If the album didn't have this killer track, it would have been a well received set despite the songs omisson. That song is 'Open Your Mind'. I remember buying this album back in 1979, and before the set had reached it's final track, I remembered being happy with the purchase. 'Open Your Mind' took the whole experience onto another level. A groove that runs for just under seven minutes long, delivered in an unfrienzied manner, and with some lovely instrumentation along the way. One track album? Not true, but essential for THAT song.
'Intimate Connection' was a 1984 release. Instruments had moved on. In some cases, in a bad way. There were artists either using drum machines that sounded like two sheets of metal being banged together, or those who were trying to emulate the Pointer Sister's 'I'm So Excited'. You know the stuff I am talking about. Soundtrack to 'Beverly Hills Cop' movies, or Miami Vice shows, that sort of thing. Well Kleeer's musical history kept the guys on the case. 'Intimate Connection' could be argued as the group's finest release. Almost every track is of the highest standard. 'Go For It' is a lovely downtempo groover. 'The Next Time It's For Real' is another fine melody. The title song is another great song, sampled by a few acts. Favourite cut in this house is 'You Did It Again' which is moody and marvellous. Almost every album, apart from the hiccup, which embodied itself in the below par 'Get Ready', is worth picking up. Interesting listening to the instrumentation changes, within those six years, on each album. As I said, the band kept their musical 'eyes on the prize' most of the time. Woody Cunningham has released some nice solo material since the last album.
Much underrated and unique band.
• Liz Hogue - Vicious & Fresh / Heaven 17 & Jimmy Ruffin - Foolish Thing To Do
The Liz Hogue album I put here, as one site visitor has been trying to track down the song 'Dream Lover'. She wanted the lyrics to ascertain whether the track actually is the one she was after. Get asked after lyrics a great deal here. They are the most difficult things to find, along with sheet music and video's. No lyrics on this album, so I told her the album was released in 1989 on CBS Records and I said that that song is almost certainly the one she is looking for. Basically, it is the best song on this very nice Chris Jasper (Isley Brothers) produced album. Chris is recording on his own excellent Gold City label thesedays. Still making some fine recordings as well. Recently featured his latest CD at the site. Solid set all told. Not sure what Liz is up to thesedays, however, I am sure someone out there will let me know. This is a lovely album and well worth tracking down.
Heaven 17? Lost the plot? Well, during the very early 80's, this group, I guess, would have been described as New Romantic, possibly. U.K. outfit that were popular at the same time as New Order, Soft Cell and the Human League were. Heaven 17 had a little more 'depth' to their sound if you like, however, their popularity started to wane a little towards the middle of that decade. I was in City Sounds in London in 1986 and the guy who ran the place, called Dave I seem to remember, stuck on this single and covered up the label. Asked me who the singer was, and I said it sounded like Jimmy Ruffin. It was. Dave had a really annoying habit if sticking an additional single in your bag, that you hadn't asked for, so you always had to check your bag before you paid your bill! LOL. It was weird to think I had just bought a Heaven 17 single, however, this is a really nice slab of Soul Music. Downtempo and reflective are my best descriptions of this tune, that could have been one of those 'little label' tunes from back in the day, out of the U.S. One thing I didn't realise is my friend Camelle Hinds played bass on this session. He was in Central Line back in the day. As a bonus ball, you also get a take on Luther's 'My Sensitivity' on the flipside. The fact that the A-side stands up to that song, gives you an idea of the quality of the starter dish. Lovely Soul music.
• Khemistry - Khemistry / Impact - The Pac Is Back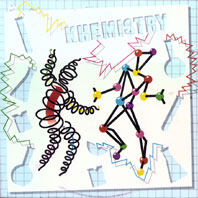 One from the Eighties and the other from the mid Seventies here.
Khemistry only made this one album, quite why, who knows as this is a very fine outing indeed and sells for a few dollars in the stores. The killer cut, delivered beautifully by Marie Council, Shirl Hayes and Kimus Knight, has got to be the dancer 'Can You Feel My Love'. I have loved this tune for donkey's years. So full of optimism and as uplifting as a new Stevie Wonder album! LOL. This song made a compilation album entitled 'Time Is Right' here in the U.K. a few years back. The compiler thought the same thing I did and placed the track at the starting post. Not a bad album throughout and very typical of that period. You get Al Johnson on keyboards, Willie Lester and Rodney Brown on production chores, which all go to make a great release. I already have the previously mentioned tune up at the site, so I thought I'd add the lovely mid-tempo 'Walking Papers' to enhance the proceedings. Definitely worth picking up.....as is....
....the Impact album, that seems to have been criminally ignored over the years. One of the many annoying things I have found with many albums from the Seventies, is the lack of a listing of the band line-up, however, the group's line-up consisted of Damon Harris, John Quinton Simms, Charles Timmons, and Donald Tighman (who was related to Sonny Til of the Orioles). This is a quite beautiful album of Soul songs. Released on WMOT in 1977, and produced and arranged by John Davis, this 9 track set is well worth checking GEMM out for a copy. 'Carry Me Back' has echoes of the Double Exposure tune 'Ten Percent', whilst the singles 'Rainy Days, Stormy Nights' and 'Smile Awhile' are top drawer dancers. For the Soul Purist, well, I, personally, love the ballads 'Somebody Loves You' and 'Sister Fine', although the Modern Dancefloors would look to the final track, 'I Thought You Might Like To Know', which, if you are familiar with the Main Ingredients song 'Everything Man', this might give you an idea of where this song is coming from. Nice album.
• The Supreme's - I Hear A Symphony / The Temptations - Live At London's Talk Of The Town
Been concentrating on Seventies (and onwards) albums recently here, so out come a couple of old Motown Gems....and why not!
The Supreme's album has a lovely image of the Holland Brothers with Lamont Dozier on the rear of the sleeve. The trio wrote some fabulous melodies. When they described Hitsville as a 'factory', they weren't wrong. You get 12 offerings here. If this was a re-release today, you would be looking at this, combined with another album and stuffed together on one poorly mastered CD. Having the full original monty here is very, well for want of a better term, ergonomic. Havin an artwork over twice the size of a CD sleeve just brings home how sleeve design standards have fallen. O.K., you know the title track, and the rest are all familiar as well. 'Unchained Melody' has a nice take on the original. 'My World Is Empty Without You' is gorgeous. My favourite is the swinging 'He's All I Got'. Yikes, I was only 10 when this hit the streets! One year later, and the Beatles were doing their Sergeant Pepper thing. Love these liner notes. The album was mono and they recommended a 'new' Emitex Record cleaner, as it 'ensured groove cleanliness'. Priceless.
The Temptations 'Live' album was recorded with a David Ruffin-less line-up at London's Talk Of The Town venue at the end of the Sixties. They were on the 'good ship' Norman Whitfield / Barrett Strong team by this time. The odd thing about this group, is that the line-up may change, but the quality is always of the highest standard. We know that the man upstairs has taken the best part of the various line-ups, however, this is a lovely bookmark from that era. There are the obvious medley's of the Motown standards, however, the Whitfield / Strong curriculum vitae was beginning to hold it's own alongside those evergreens, later to become standards in their own right and quite rightly so. I won't run through a tracklisting, but just cherry pick the group's take on Gamble & Ross's classic, 'I'm Gonna Make You Love Me', which you can hear here, if my website annoying streams allow. What a great group these guys were/are. Lonnie Cook just mailed me and told me that Ron Wilson (from Bloodstone) was once on the guys teamsheet! Lovely album, with liner notes from one Tony Blackburn! Poptastic!
• Yasuko Agawa - Fine / Issei Noro - Sweet Sphere / Naoya Matsuoka - A Farewell To The Seashore / Bobby Caldwell - August Moon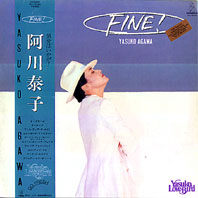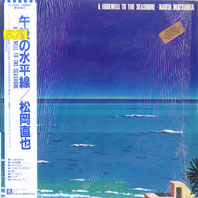 I had an e-mail from a site visitor last week who was interested in some of the Fusion releases out of Japan some 20 or so years ago. I know I have touched on a couple of these albums at the site in the past, however, nothing wrong with revisiting quality, in my humble opinion.
Each of these albums cost an arm and a leg back in the day. Yasuko Agawa is probably best remembered for her song, 'L.A. Night', taken from her 'Gravy' album, which, basically, sampled the Light Of The Worlds tune 'London Town'. Yasuko made several excellent albums, four of which I have here. I think that 'Fine' is the most listenable. You get her take on the evergreen 'New York Afternoon', along with her additional take on Hiroshi Fukumura's 'Fill Up The Night'. Personal favourite here is the latinesque 'Darlin Don't Ever Go Away'. Very summery.
Issei Noro's 1985 album on Japanese Invitation Records has a wonderful line-up of musicians. You have Patrice Rushen, Phillip Ingram, Paulinho Da Costa, The Seawind Horns, Maxi Anderson, Nathan East, Robert Brookins and Kasu Matsui. Some lovely moments here in the shape of the title track, along with the dancer 'Moondance' and the Phillip Ingram fronted 'The Message In The Night'. Lovely album.
Naoya Matsuoka's album is an all instrumental affair. Very nice fusion from 1983 and very unusual. Robbie Vincent, from Radio London, at the time, used to take the track 'Free Voyage' for a spin, and I got so hooked on this melody, I went out and spent a small fortune picking this album up. Never regretted it either. Another lovely summery melody.
The last of this motley crew is an album by Bobby Caldwell, that did eventually see a U.S. release some several years later. I first heard this album on a pirate radio station back in 1983. As Bobby Caldwell albums go, I hope he wouldn't mind me saying that this isn't one of his greatest efforts. Having said that, the song 'Once You Give In' was so wonderful, I was out remortgaging the house for a second time. This tune easily stands alongside 'Down For The Third Time' or 'What You Won't Do For Love'. Lovely music.
• Lyn Collins - Think (About It) / Check Me Out If You Don't Know Me By Now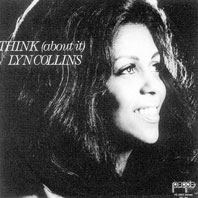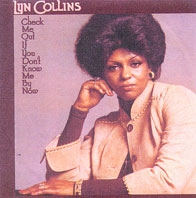 I went to see Lyn Collins, along with the excellent Martha High, at the Jazz Cafe, here in London last month. Excellent the pair of them were, too. Like the fool I am, I didn't have a page on either of these women at the site, so I redressed that balance and figured I'd push out the proverbial musical boat and include these two great offerings from Lyn from way back in the early to mid Seventies.
Before I went to the show, I went to see a friend who works in the retailer called Reckless Records in London. They had both of the originals of these albums in the store, recorded for the People imprint in 1972 and 1975 respectively, each retailing for £50. That's $100 in U.S. currency! Always seems to amaze me how, one year one album can cost a fortune, the next it is worth only a few dollars. These albums have retained their retail value pretty much consistently since the 'rare groove' movement began back in the late Eighties.
One maliase that both of these albums do suffer from, is the fact they are both sought after for really one track respectively. 'Think (About It)' and 'Rock Me Again & Again & Again & Again & Again'. Criminal really as both offerings have much more depth to proceedings. With Lyn's first album, well 'Reach Out For Me' is a lovely midtempo offering. Check out her version of 'Never Gonna Give You Up'. Lovely stuff. The 'Check Me Out' album has a great version of the O'Jays 'Backstabbers', with the 'Female Preacher' being helped along by the 'Godfather of Soul' on vocal chores. Lovely stuff. Both of these albums are worth picking up and are worth investing in as they seem to be fairly consistent in a volatile vinyl market. Not a bad listen either!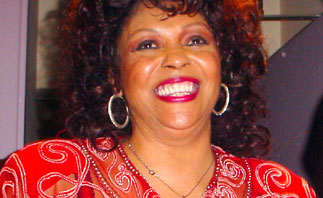 lyn at the jazz cafe last month
• Chuck Jackson - How Long Have You Been Loving Me? / Larry Wedgeworth & Clique - No More Games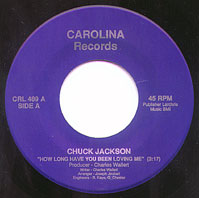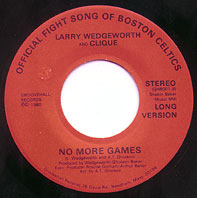 A couple of little label items that surfaced in the late Eighties. Chuck Jackson's single came in to the U.K. around 1990, although the sound is much earlier in my humble.... This is a lovely melody, which drifts along effortlesly and is well worth tracking down. Released on the Carolina Records imprint and produced by Charles Wallert, this gets stuck in your grey matter and is one of the finest releases from that period.
The Larry Wedgeworth tune is from 1980 and is having a new lease of life on many of the modern dancefloors. I have had this tune on the shelves here for around 14 years right now. I liked this, and bought the single, as it reminded me of the Intruders 'Win, Place or Show' recording. Very uplifting song that is dedicated to the Boston Celtics, who I guess are an Ice Hockey Team (sorry U.K. based and into Soccer! LOL). Larry went on later to become Larry Wu, who recorded the excellent 'Let Me Show You' and formed the group Modernique. These are two lovely 45's and would grace any collection.
• Gift Of Dreams - Gift Of Dreams / The Magnificents - On My Way Up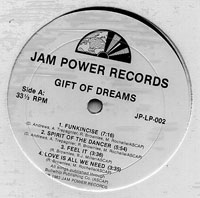 Two oddities I picked up around 1990. The Gift Of Dreams album, at that time, came without a proper sleeve. You got a white 12" style cover and the labels, that's all. The album, originally came out in 1983, and this album with a cover, costs a pretty penny. The main reason why that is is because of the song 'Feel It'. What a lovely slice of Soul music it is too. I do believe that that song is due on an Expansion compilation album soon, which is great news. Don't keep the faith....spread it! This record is worth tracking down, however, for the excellent stepper 'By My Side'. Lovely material.
The Magnificents 12" I picked up at the same time. The Magnificents were actually formed in 1953, out of Chicago, and consisted of Johnny Keyes, Thurman 'Ray' Ramsey, Fred Rakestraw and Willie Myles. They were, as many groups at the time, a doo wop group. Whether the line-up is the same on this 12", heaven knows. What I do know is that this is a gorgeous mid-tempo offering, perfect for a summers day. The label says one D. Beck co-wrote the song, so I've e-mailed the man to find out if he was the co-composer. A really nice slice of the real deal.
• Bernard Oattes - Frame By Frame / Warren Bailey - Warren Bailey
Many Soul punters and deejays look to the Nineties as a 'lean' period within the scene, however, although I would agree there was a lot of sub-standard material around (many of the 'real' singers had gone off to independents), there were albums such as these two, which were fine offerings and shouldn't be dismissed out of hand. Both of these saw a release in 1992.
Bernard Oattes was, originally part of the group called the Limit back in the Eighties, who had a club hit with the song 'Say Yeah'. This CD was Bernard's first solo offering and came out on the Sin Drome imprint. Bernards vocal stylings aren't to dissimilar to those of Michael Franks, with perhaps, a few deeper tones thrown in for good measure. I think Bernard would be the first to say that, vocally, he isn't an Otis Redding. What he does do is occupy his own vocal range to it's optimum, which is fine by this scribe! I guess in today's market, the retail outlets would add this album to the 'Smooth Jazz' section, however, this came out long before that awful term was invented. At the time, the song 'The Grand Design' filled the radiowaves on the better stations. That is a fantasic tune, it has to be said. The overall CD is one of solid melodies, delicate harmonies, embellished with, an almost, tender delivery. I love the opener entitled 'On The Fairway', however, my pick of the bunch is the intelligently penned 'When I Go To Sleep'. A catchy chorus, with some nice musical interchanges. Lovely horn solo thrown in for good measure towards the end. Very solid album and the best of his solo offerings, in my humble opinion.
Warren Bailey's offering, from the same year, is a lovely independent outing. I am not sure if Warren recorded any other material. If he didn't, well he should have! He did, however, contribute songs for the movie 'Lean On Me' and did work with the artist Taj Mahal. Warrens vocals are reminiscent of those of Gerald Alston's (The Manhattans), which he moves around the scales with great dexterity. I remember, at the time of this release (is it really twelve years ago?), loving the song 'Once In A While'. Very strong song that one. The whole album has stood the test of the passing years. 'Turn Back The Hands Of Time' is a nice mid tempo number and my 'cherry pick' of the bunch is the glorious floater, 'Love Struck'. That was one of my favourite tunes from that year. As I usually say, at the end of reviewing albums such as these independents, is 'I wonder what Warren is up to thesedays?'. Wherever he is, he ought to record another project. Worth buying for 'Love Struck' on it's own.
• Breakwater -Breakwater / Splashdown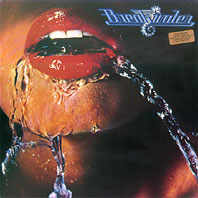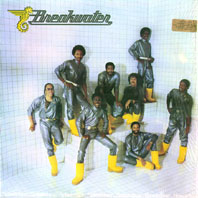 Recently, I was in touch with a guy called Daryll Williams. Daryll's brother is Kae Williams Jnr, who was the nucleus of this group. Breakwater only released two albums, for the Arista imprint, in 1978 and 1980, respectively. Kae Williams Snr, at one time, managed the group the Silhouettes amongst many other lifetime achievements. There is a page on him at the site (check 'The Artists' Page).
I picked up both of these albums on their release dates. The first album is, perhaps, a better offering, although their finest moment came via the second set, that moment being the excellent 'Say You Love Me Girl'. That song was a big R & B hit both sides of the Atlantic and has led to both of these albums being highly collectable.
Returning to the first album, well, this is a very consistent set throughout. Robbie Vincent, at Radio London, used to take the fusion tune, 'Feel Your Way', for a spin on his legendary Saturday shows, although, my personal favourite here is the Grey & Hanks penned 'No Limits'. In a way, that was a perfect tune from that time. Melody, optimism and no drum machine's! This really is an album I would recommend to anyone. Fine song led melodies. Just about everything that a Soul Fan might desire.
'Splashdown', does also have it's moments, apart from the aforementioned 'Say You Love Me Girl' (which you really do need as a matter of some urgency!). There are some excellent ballads that arrive in the form of 'Love Of My Life' and 'The One In My Dreams'. 'Let Love In' is a nice midtempo offering, whilst 'Time' ought to be very high up on every discerning collector's 'wants list'. A lovely song.
The group went their seperate ways after leaving Arista and all left the music business with the exception of Kae who became a freelance pianist, songwriter and producer, working with the likes of, Change, The Richie Family, BB & Q, Mason, Phyllis Hyman and Miki Howard amongst others.
Both of these albums are available at GEMM on CD and vinyl. You pays your money....click here.
• Al Broomfield - Broomfield / Certain Kinds Of Weather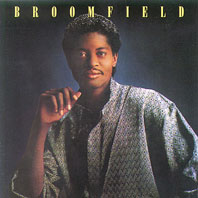 When Al Broomfields 1987, self-titled, album arrived on these shores, it was regarded as one of the finest albums of the Eighties by Soul fans. That accolade was richly deserved, as that album was right up there with the 'Rapture's' (Anita Baker) of that era. I remember the charts being topped by this album for weeks on end. Al comes from a family of nine children, whose ranks include Dee Dee and Eugene Wilde. Very talented family.
Al has been in touch with me recently regarding a new project he is working on, which is great news. Can't have someone of his calibre sitting around, can we? Not many people are aware of his second, 1991 album. That set, unfairly, came and went without a fanfare, perhaps due to the time lapse between releases?
Al's first album was, as I have already mentioned, a fine affair. The very first track, 'Where Do I Go From Here?', really sets the highest standard and what follows on is more of the same. The radio stations picked up on that track, along with 'Don't Cover Up Your Feelings' and 'Is It So Hard'. It is hard to pick a favourite from this set, although the latter of that trio is quite excellent. On the ballad side 'Through All The Years' is quite beautiful. If you don't have this album, you really need to own a copy. A very fine Soul album.
Al's 1991 album was another fine offering. I never could understand how his first set was received so well, whilst this set, well, wasn't really received at all! We were notified, prior to this release, via a twelve from this album called 'I Won't Rush You'. The killer tune here has to be the title track, which is a bright and breezy dancer, that has the chorus swirling around in the grey matter. Lovely stuff. I used to play this song at various venues and folks always asked after the tune. This album was released on N'Effect Records, whilst his debut came out on the Vision imprint. Al Broomfield is a very underrated singer and I am looking forward to the new material.
• Carl Anderson - Absence With Out Love / On & On
Carl Anderson's passing last week (today is the first day of March 2004) was one obituary that provoked so much e-mail at the site, that I didn't do anything here for nearly two days. Just replied in the best way I could. Carl's path must have crossed nearly everybody in the United States. I had e-mails for people who had toured with him, people who knew him in the Sixties, and some very close friends who were, almost inconsolable. Peter Young at Jazz FM paid a very nice tribute to the man this Sunday. I included a piece on the Respect page at the site, however, I also wanted to further the tributes by adding these two albums at the site, on this page, by this great man. He may have been a fabulous actor, however, I feel his body of musical work is second to none.
'Absence With Out Love' will always be highly regarded as his debut set, mainly for the outstanding Stevie Wonder tune 'Buttercup'. This is a classic song, which is held in such high regard in the U.K., that it still receives heavy rotation on many stations. The album is a little hard to find, however, it is worth pursuing for several of the other melodies herein. My personal favourite is the song 'Going Out Again', which meant a great deal to me back in 1982 after a seperation that was very distressing. These albums were released on the Epic label in 1982 and 1984 respectively.
So onto 'On and On', which was Carl's 1984 offering.
By the way, artistic contributions to the two fine albums included, Vaneese Thomas, Carmen Lundy, Omar Hakim, Paul Jackson Jnr, Sonny Burke, Freddie Washington, Nathan East, Jerry Hey, Jim Gilstrap, Paulette McWilliams, Teena Marie and John Barnes.
After Carl turning many peoples ears onto his music via the Stevie tune, this release really consolidated his musical presence. My personal favourite tune here is the fabulous duet with Vaneese Thomas, entitled 'It's The Love'. One of my favourite '80's melodies. On the stations here, the songs 'Magic' and 'Time To Win' received heavy airplay and were quite outstanding in their own right. Carl was one of those rare artists whose albums were consistant throughout his recording career. I know that he will be sorely missed by many who knew him. I never shook the man's hand, although, from the site responses regarding the high esteem he was held in by folks close to the man, I think we would have had a beer and a long talk, if we had ever met. Do go buy any of his albums. The royalties will get to his family. A real singer, who is held in the highest regard by the real Soul fraternity. I guess if the sum total of a person's life is judged by the people that remember you, Carl will still be around for decades to come. Nice albums these two. Peace.
• Mystic Merlin - Full Moon / Major Harris - How Do You Take Your Love
I know that I have scanned and written a couple of sentences regarding the Mystic Merlin album on these pages previously, however, I felt I didn't do the album justice. Another thing that prompted me to return to this set, is the fact that Freddie Jackson's people have been in touch. I spoke about this album and Freddie doesn't have a copy, so I have CDR'd this set and I will mail out the album shortly. Freddie's inclusion in the band arrived after three previous albums, with the song 'Just Can't Give You Up' (from the first offering) becoming a dance classic over the years. This album is mainly sought after for the 'rare groove' song 'Mr. Magician'. A great track. This album has a very Eighties vibe going on. All bar one track are uptempo and seem almost like a snapshot in time, musically. Freddie left the group shortly after this set was released and the rest, as they say, is history. His new music is of a very high quality. Not sure of how it will fare in todays 'plastic homogenised musical marketplace', however, I will be shouting from the rooftops here, supporting the artists of the calibre of Freddie Jackson. I have added some Real Audio on the sole ballad from this album. The song is called 'Your Love', which builds very nicely. Mystic Merlin went on to record under the band name of 'Storm' in the late Eighties and early Nineties. This is a nice album.
The Major Harris album came and went without any major fanfare back in 1978. I guess folks were listening to Dolly Parton's and the Beach Boys disco records. The 'smooth jazz' of it's day? Well maybe. One thing I do know is this album has stood the test of time majestically. Initially, you get a 10 minute track which is called 'I Wanna Dance With You', which, even after a three minute ballad intro, you know that the thump of a disco drum will appear at some point in the proceedings. Of it's type, it ain't half bad. It is the material that follows that will delight the Soul Fan. One track of interest to Chaka Khan fans is that this set includes the original version of 'Night Moods', a track that was later to appear on her album 'Whatcha Gonna Do For Me' in 1981. The pick of the tracks are, well, all of the rest really. There is a Modern Dancer that will please the diehard Northern Fan in the shape of 'Let Me Take You There'. The title track is a fantastic slice of Soul Music. My personal favourite is the catchy 'You're So Good, You're Bad' which will have the listener singing along in no time. This is an excellent and much ignored album. By the way, you have artistic input from the likes of David Lasley, Luther Vandross, Wilbur Bascomb and Will Lee, which tops things off very nicely.
• The Moments - Those Sexy Moments / Larry Graham - Fired Up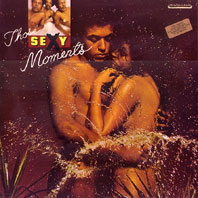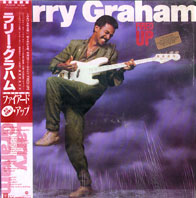 Two albums here released a decade apart and highlighting the changes in technology within those years.
The Moments album I picked up shortly after it's release in 1974. The main interest for most fans was the inclusion of the pop hit 'Girls', recorded along with the Whatnauts. That single I had bought previously to the album release, and, as was my habit back in the day, I used to take 45's along to various clubs we went to, in case the deejay didn't have a copy. One deejay listened on his heaphones and told me 'I am not going to play that...it will do nothing'! Well history....etc. 'Girls' proved to be a massive hit, although this album was widely ignored, which was a real shame. Not your usual 'Love On A Two Way Street' album this one. The Miami sound was highly popular at the time, and Sylvia Robinson's New Jersey sound and her All Platinum label created their own vibe, of which this is a fine example. 'Girls' almost seems out of place on this fine album. The grooves are tender and rhythmical. They are almost hypnotic. I really recommend you track down this album (which shouldn't be too hard to find). The Moments had a sexual sound all of their own, typified by the lengthy 'Sexy Mama'. Sylvia later covered the melody 'Next Time I See You' on her 1976 self-titled album and 'Ride Your Pony Girl' is another good example of the New Jersey sound. My personal favourite here is the, almost plodding, 'Sho Nuff Boogie' that gets into a great groove. Delightful.
A decade or so later and out go the real drums and in come the dreadful drum machines of the Eighties. Stuck plumb right in the middle of that era is this 1985 album, that only saw a release in Japan on Warner Brothers, is this set by Larry Graham. Now I am not going to say that I like all this set. The drum machines were designed by aspirin manufacturers in my humble....I picked up this album (which I had to sell me right arm to get!) for the dancer 'What We All Need Is More Love' (an old Robbie Vincent favourite), which toned down the drums, with Larry pleading for more World peace. A very good dancer. The Real Soul fans will be interested in his ballad 'Tearing Out My Heart', which is quite delightful. Personally, I am really pleased I picked up this album, even though those machines have now passed their sell by date. Recommended.
• Ingram - The Ingram Kingdom (1976) / That's All (1977) / Would You Like To Fly? (1983) / Night Stalkers (1984)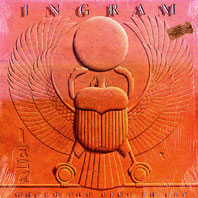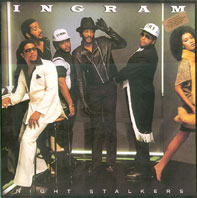 If you thought that the Jackson Family or the Womack Family are trying to take over the World, numbers wise, then the Ingram Family are the undercover agents! Check the covers of any of these albums and there are Ingram's coming out of every crevasse! LOL. To be honest, these guys have never really received their dues. They are all excellent songwriters and can pen a tune in many different styles. These four albums were released in a period between 1976 and 1983. There is a feeling of 'London Buses' regarding Ingram albums. You get two in 1976 and 1977, respectively, and then you have to wait six years until the next two come along! This period is evident in the changes in musical technology in that small period in time.
The Ingram Kingdom's first album I bought back in the day, although, I had forgotten about the set until some knowlegable fan asked after a tune that appears on this album on a Modern Soul Group. That tune was the song 'What Else Can I Say?', which is a quite excellent dancer. There are some beautiful ballads on this album, including 'He's Mine' and 'She's All Alone'. Barbara Ingram's vocal stylings are really exceptional, although she took more of a back seat on the group's follow up set, 'That's All'. This 1977 offering is sought after for the fusion offering 'Mi Sabrina Tequana', which became popular several years after the initial release. The group had now relocated to the H & L imprint. The title track is a first rate dancer, whilst 'I Just Wanna Testify' is a nice stepper.
We then had to wait for the 'Ingram Bus' for 6 years, until they came back with a bang with the barnstorming 'Would You Like To Fly' album. This record was massively popular on the U.K. dancefloors back in 1983. Released on the Mirage label, you could take your pick as a deejay from several fine dancers. These took the shape of 'DJ's Delight', 'No One' (highly underrated Soul Anthem), 'Smoothin Groovin' and 'Groovin On A Groove'. The radio friendly title track became an enduring favourite on Robbie Vincent's Radio London/Radio One Soul Shows. This represented, probably, the groups finest hour, although 'Night Stalkers' (which arrived the following year on the Other End label) was also popular on the pirate radio stations here in the U.K. Although, not of the same standard as the 'Fly' album, the tracks 'With You' and 'Drive Me Crazy' were quite excellent and highly popular.
Ingram are a very underrated group as I said. It would be great to see a new album by the guys at some stage in the future.
• Maceo - Us / The JB's - Pass The Peas
I was once deejaying with a friend of mine and the evening hadn't really got going. He said to me, reaching into his record box, 'when in doubt, James Brown out!'. Well, to be honest with you, you can't argue with that sentiment. I have been ignoring the Funk side of things a little here so, even though I have already touched on this JB's set on these pages, I didn't do the album justice, so here goes.
Both of these sets are, James Brown productions, are excellent examples of the Funk genre, and are rare as rocking horse doo doo! The Maceo album is sought after, mainly for the dance classic 'Soul Power '74', which is, undoubtedly, one of the best reasons to get up off your ass and get on down! Penned by James, this is dancefloor heaven. Maceo weighs in here with his take on the Godfather's 'Doing It To Death', along with several other fine dancefloor fillers. Of interest here, is Maceo's take on the Al Wilson chestnut 'Show and Tell'. A great interpretation. Check that out below...streams allowing.
The JB's album is another filled to the rafters with great funk offerings. This album always travels with me to various gigs, if I am invited to play at them. The line-up is more impressive than that of the Real Madrid first team! 'Pass The Peas', Gimme Some More', Wine Spot', 'Hot Pants Road', 'Blessed Blackness', 'These Are The JB's' etc. Recorded on the Mojo label back in '72, I have, as I did with the Maceo offering, gone with one of the mellower offerings in the shape of 'Theme From King Heroin'. When James Brown hung up his dancing shoes at the end of a show, he proved that he could cut it within Soul circles. Very nice addition to any collection.
• David Ruffin - So Soon We Change / Johnny Bristol - Strangers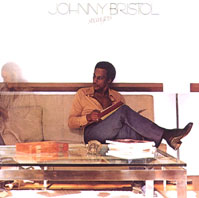 Two albums, from two major soul singers, that have been criminally ignored over the years in my humble opinion. Both were released in 1979 in the post disco boom where folks were getting back to recording the real deal, which was a relief!
Recently, I have been in touch with David's ex-partner, Genna Ruffin, who spoke to me about how proud she was with her's and David's son and his new recording career. Chip off the old block as they say! As I have said at the site before, it amazes me how many artists don't have copies of their own material. In an attempt to rectify things, I put together a 'Best Of' CD from the vinyl here for Genna and mailed it to her. In amongst all of the great material David recorded is this neglected gem from 1979. Can't understand why both of these albums never saw much recognition at the time. They are fine offerings. Back in the day, Robbie Vincent at Radio London and later at Radio One and Jazz FM used to take the song 'Let Your Love Rain Down On Me' for a spin, which is a fine dancer that has grown in stature over the years. The single off this set was the song 'Break My Heart', which is a real nice tune. The title track is a fine ballad, however, my personal favourite from this fine set is the mellow 'Morning Sun Looks Blue', which is one of David's finest recording moments, I believe. On Warner Brothers and really worth investigating...and that voice....!
Johnny Bristol is another artist that has, almost, taken a 'back seat' regarding his recording career. Apart from the enormous national hit 'Hang On In There Baby', Johnny's career has had it's ups and downs, success wise. He deserves much better than the industry has credited him with in the past. His Seventies output is second to none and 'Love No Longer Has A Hold On Me' has become a Modern Soul Anthem. Sadly, his superior version of the self penned song 'Love Me For A Reason' was covered by the charming Osmond Family...covered in what I cannot mention on these pages! That song becoming a personal hit would have seen Johnny achieving a more sustained success than he was credited with at the time. This set came out on the Atlantic imprint and is notable for the title song, covered also by Tavares, which is a beautiful mid paced melody, tenderly delivered by Johnny. The songs are very strong here with 'If You Ever Need Somebody' being a fine example, also covered by the great Gladys Knight on a solo album a year or so later. 'When He Comes' is a nice Modern dancer, that ought be receiving more attention right now on the more discerning dancefloors. Nice album. Great songwriter.
• The Younghearts - A Taste Of The Younghearts / All About Love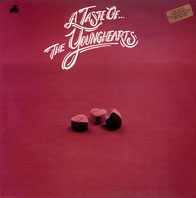 Recently, I have been in touch with a friend of the ex-member of the Younghearts, namely Frank Hayes. I have two of the groups albums here, so I thought I would feature them in this section.
The album 'A Taste Of The Younghearts' saw a release in 1974. It came out on the 20th Century label, which means that there must be a level of high quality within the grooves, such is the reputation of the company. Well, this album certainly doesn't disappoint. The arrangements are lush and the harmonies are of the highest quality. Of the songs on offer here, 'For The Rest Of My Life' is very reminiscent of some of the work of Eddie Kendricks. A beautiful song as are the downtempo offerings 'We're All God's Children' and 'Dedicate (My Life To You)', which are 'state of the art' ballads from the era. The real nugget here has to be the mid-tempo stepper 'You're Not Here With Me', which stands up alongside many of the Seventies finest offerings.
Esther Phillips once told us 'What A Difference A Day Makes', well a three year gap resulted in a very different sound for the group. Contemporary at the time, and enjoyable from a completely different perspective. Produced by George Tobin, this is another excellent bookmark from the Seventies. The guys cover Heatwave's song 'Sho Nuff Must Be Love' and David Gates torch song 'If'. These are not bad covers although the standard is set by the original material, in my humble opinion. 'Make A Little Wish' is a nice mid tempo offering and the opener, 'Let's Fall In Love Again', is a competent dancer. Drop down a beat or two and you come to my favourite song, a ballad entitled 'Queen Of My Heart'. Out on ABC in 1977 and a very nice addition to any soul collection. Frank Hayes, from the group, is now recording Gospel material. A very underrated group.
• Mel Brown - Actor Of Music / Blue Magic/Major Harris/Margie Joseph - Live!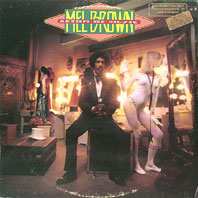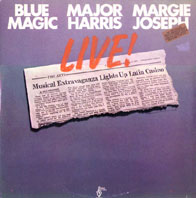 I was reminded (in no uncertain terms! LOL) at the end of last week, I had been ingnoring this page at the site for a while now. Fair-ish criticism, as I had been spending a lot of time trying to help various artists. Guess you can't be all things to all people? O.K. Let's try to rectify things with these fine two Seventies offerings.
Mel Brown's album, I picked up in a charity shop about 15 years ago, attracted, initially, by the label (ABC) and the fact that James Gadson had produced the proceedings. Mel Brown has a real nice delivery, which may not have the strongest soulful impact, however, his vocal tones have a real charm. This album I missed at the time as it was released amongst a plethora of shoddy Disco offerings in 1978, the worst year for Soul releases in my humble opinion. Disco had a lot to answer for at that time. This album has become one of my favourite releases from the Seventies. The whole proceedings kick off with the very 'Norman Whitfieldesque', 'I A Man And You A Woman'. These songs are very strong. I like pretty well everything, with the highlights coming via the 'Soul Swing' of 'Restless Moments', the drop dead gorgeous ballad 'Does Anybody Really Care?' and the Modern stepper 'Call On Me' (Not the Jeff Perry tune). A great album that I would recommend to any soul follower.
The Blue Magic, Major Harris, Margie Joseph album was another that I bought back in the day. I filed the thing away and forgot about it until a writer at Blues and Soul magazine got in touch. He was writing the sleevenotes for some of the Blue Magic re-releases and was in touch with a contact at Warners, who called him and said 'Do you know there was a live album as well'? The journalist contacted me and said 'Did you know about this album'? I had been helping him and was really embarrassed to tell him that I had a copy. Totally forgot about this set. Recorded at the Latin Casino in New Jersey in 1975. This is a double album on WMOT and features four sides comprising the three artists. You get Major Harris pitching in with 'Love Won't Let Me Wait', 'I Got Over Love' and the evergreen 'Loving You Is Mellow'. Margie duets with Blue Magic and sings solo on 'My Love', 'Feelings' and 'Ridin High'. Blue Magic take the lions share of the proceedings, covering Harold Melvin and the Bluenotes classic 'Bad Luck' amongst others. Now of particular interest to soul fans here are two studio tracks by Blue Magic and Margie Joseph, which are both top drawer melodies. The first is a version of 'I'm Gonna Make You Love Me' and the second is the beautiful 'Funny Guy, Funny Girl, Funny Love'. A must for Blue Magic and Margie fans. Nice photo of the whole line-up in the centre of the gatefold as well.